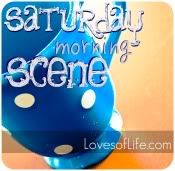 Today I am linking up with Katie at Loves of Life to share my saturday morning. We have a busy day ahead of us today (car shopping..ugh) so we have to get up extra early to get our run in. Isabelle is waking up with her buddy Spike and a little Mickey Mouse Clubhouse while her dad and I get dressed for our morning run. The morning time is about the only time she likes to cuddle..this is also the time that her dad and I fight the most over who gets to hold her.
I promise I didn't stage this. My kid and dog are just THAT cute. Plus, I'm not THAT good.
What are your saturday plans? I betcha they're more fun than car shopping.