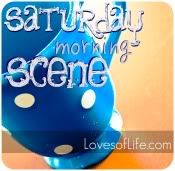 Today I am linking up with
Katie
for a little Saturday Morning Scene. We started the morning like we start every saturday. Woke up and went for our little family run. It was a steamy 90 degrees at 9:00 when we were finished so I was ready for a HUGE gatorade and a cold shower, but little Miss Isabelle had other ideas. She is turning into quite the little "runner". Everytime we get finished with our run, she insists on getting out of her stroller to get her little run in. Since Mr. T was soaked in sweat and slimy I got suckered into was happy to help her walk along the path for the remainder of the run. Now I'm ready for a huge gatorade, cold shower, and a back massage, but it's all worth it for this little face:
Hope you all have a great 4th of July weekend, filled with as many explosives, BBQ's, cold drinks, water sports, and tacky flag swimsuits as your little heart desires. Thank you to the men and women who fought and continue to fight for our freedom!
My nephew and his buddy (who loves America so much that he dressed as George Washington to their neighborhood parade). Awesome buddy, just awesome.