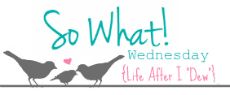 Today I am linking up with Shannon over at
Life After I Dew
for a little bit of SWW. It's good to get some stuff off your chest every once in a while.
This week I am saying So what! if:
-I have 99 followers and now everytime I see that I sing, "I got 99 followers but a b*!@# aint one". I'm so very Jay-Z...and because none of my followers are the "B" word. I love you all.

P.s. Please don't hesitate to be the 100th follower. Mr. T. will love truly appreciate not having to hear me rap that song every other hour.
- I have been slacking on the blog world lately, because the weather here has been amazing which means Isabelle and I have been outside all day wearing her ourselves out.
-I have also been very busy with some exciting news! No. I'm not preggo. Pinky promise. But I do have some exciting news to share on the blog soon. I am working on the post now.
-I just lied and said, "I am working on the post". I am not yet. I am working on it in my head though. I generally don't plan out posts. I'm more of a fly by the seat of your pants kinda gal. (I know you guys are sooo shocked by that right?!)
-It seems like everyone that has a toddler the same age as Isabelle is pregnant again. I am not ready yet. Period. End of sentence.
-My Boston Marathon is a little over a month away! Eeek! I am so excited to see the town of Boston and be a part of such a historical event. I am also really excited to see how my training has paid off (and be done with training). If you have any tips or things to see while there, hit me up!
-I am pretty sure I am going to get a new tattoo while we are there. I don't know if you guys know this or not, but tattoo's freakin' hurt. I have a tiny heart tattoo on my right hip that took about 10 minutes. I thought I was going to die in those 10 minutes. So I will torture my body for 26 miles and then drag needles over it when I'm done. I told you I like to party.
-Tomorrow night Mr. T. and I are going to see Eric Church in concert and I'm pretty sure Mr. T. is going to scream like a Bieber fan. So hot.

What are you saying, "So what!" to?