It's that time of the week again! We've had a busy week this week, but there is always a little time for SWW
.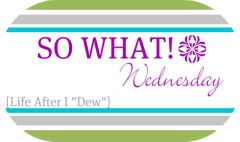 I saw a 2 1/2 or 3 year old KID nursing off his mom and I was completely weirded out. Sure, the National Pediatrics blah blah blah group say nursing 2 years is best, but seeing the kid pulling up his moms shirt to nurse made me feel really awkward. That is just too much for me.
I woke up this morning with sore abs. I haven't done sit ups or any sort of crunches since high school so I can't be sore from that. The only thing I can think of that would make my stomach sore would be from laughing from watching "Bridesmaids". Mama needs to do some abs! I'm pathetic.
I eat dinner just so I can have dessert. I think I'm a 5 year old trapped in an old ladies body. This little habit might also show that I need to do some sit ups every once in a while.
I have IBS and I think dairy also upsets up stomach, but I am an icecream addict so I don't want any doctor to tell me I'm lactose intolerant. I would rather eat it and then have stomach cramps then to give it up. No lie when I said I'm an addict.
I am addicted to all things fall. I hate winter so I really hold on strong to the fall. I have been to the pumpkin patch already and I am going again today. I will probably go again when it get's closer to halloween too. Our squirrels eat our pumpkins so I need to get new ones quite often. The squirrels come into our yard to eat their pumpkin buffett and Spike get's to chase them away. Win Win!
Ok time to link up with Shannon!