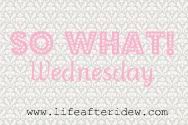 I am teaming up with
Shannon
today at Life After I "Dew" for a little So What! Wednesday.
So what if:
I kind of chuckle every time someone calls Wednesday "hump day". Does that make me immature? Probably. Does it make me a perv? Slightly. Either way. It makes me laugh

I just got on the band wagon for reading Harry Potter. Enough reputable sources (over the age of 12) recommended it for a good, fast read (I have to say "fast read" so you think I'm smart and Harry Potter is sooo below me).

When people recommend a book and say "it's a fast read", I get a little nervous. What if I'm not as fast of a reader as them. Or what does that even mean? Fast read to me means reading the captions from "Us" Weekly.

I cheer for separate college football and basketball schools. I grew up in Oklahoma and my family went to the University of Oklahoma. I grew up cheering Boomer Sooner! I then went to the University of Kansas where basketball is a religion. Kansas football is terrible. So I am a die hard Sooner in the fall and a die hard Jayhawk in the winter and spring. I will ALWAYS cheer for my Jayhawks over the Sooners if they play one another, so leave me alone. I will DIE before Isabelle yells the words, "Gig em Ags." (that one was for you Mr. T). I only let Mr T cheer for Texas A&M because he went there and he's hot. If he weren't, he would be S.O.L.

I go to the pool with spf 75 on and a hat. The thought of turning into a giant raisin when I'm 40 scares the crap out of me. Sure, cancer does too. But I'm vain. Who wants to look like a bull dog carrying kids around? Get a spray tan people! Safe and pretty.

I get baby fever the more I think about how quickly Isabelle is growing. The fever quickly leaves me when I ACTUALLY think about being pregnant, labor, no sleep, nursing like a cow and carrying TWO kids around all the time. Those thoughts are perfect birth control!

I am taking Isabelle to her one year doctors appointment today where she will get her last round of shots. I hate it. I hate it bad. Especially now that she is a runner, I know that we will have to catch her and hold her down to give the shots. That makes me want to cry just thinking about it. I guess my mom wasn't full of crap when she said, "this hurts me more than it hurts you". Good Lord, I'm getting old.
So what are you saying SO WHAT! to?