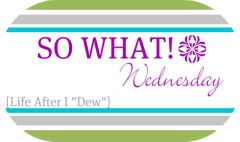 Of course today is Wednesday, so of course I am linking up wtih
Shannon
for a little SWW.
This week I am saying SO WHAT if:
I know I am adequately caffeinated when my pee smells like coffee (TMI? Then you better stop reading now)
Sometimes my pee smells like Cheerio's, but I never eat Cheerios. Weird. How does this happen?
Every time I see a girl in one of those faux fur vests I call her Cruella DeVille (in my head of course...I'm not that brave), yet I think those vests are cute and I really want one.
The CMA's are tonight and I am the stupidly excited. I can't wait to see all my Okie's representing and now that we go to Nashville a lot, I feel like I know all the singers (I have stalked a few of their houses before. Normal, No?).
By far my favorite thing to watch are the singers performing in their awesome clothes. Carrie Underwood always looks GORGEOUS and she always shows off her pretty legs. I love a girl that shows some leg and covers the boobies (I can relate. My chest looks like my back).

I secretly want to be besties with Miranda Lambert and Blake Shelton. He's hysterical, she's a Bad A and they have a lot of rescue animals on their farm in Oklahoma, plus he used to sport a mullet and I know someone who would appreciate that.